Screenshots
Prince of Persia 1 for Game Boy
© 1989, 1991 Jordan Mechner / Virgin Games, Inc. / Broderbund Software, Inc.
Game manual (instruction booklet)
Download: Prince_of_Persia_-_Manual_-_GB.pdf
Codes
Level 2 - 06769075
Level 3 - 28611065
Level 4 - 92117015
Level 5 - 87019105
Level 6 - 46308135
Level 7 - has no passwords
Level 8 - 70914195 or 65903195
Level 9 - 68813685
Level 10 - 01414654
Level 11 - 32710744
Level 11 - 80637674
Level 12 - 26614774
Level 12 - 56135664
Jaffar - 98119464
Jaffar -71196464
End - 89012414
Password Creation
A password is an 8-digit number ABCDEFGH. ABC are check digits, D is the number of lives, EF are the minutes remaining, and GH are the level. To create your own custom password:
Choose your level, write it as two digits and reverse, stage 6 becomes 60
Choose your minutes remaining, reverse, and place before the total. 5 minutes becomes 50, giving a code so far of 5060
Choose one digit for your lives and place it before the current code. 9 lives are added to give a code of 95060
Call this code DEFGH and create ABC by the following method: C = G + H, B = E + F, A = C + D (if necessary, subtract 10 from A B or C so as to have only one digit in the result).

95060 C=G+H=6+0=6   B=E+F=5+0=5   A=C+D=6+9=15=5   55695060
DEFGH   C=6   B=5   A=5   ABCDEFGH

Finally, create the password by exchanging each number in ABCDEFGH with the appropriate number according to this chart:
Old Number: 0 1 2 3 4 5 6 7 8 9
New Number: 5 4 7 6 1 0 3 2 9 8
Thus, 55695060 becomes the code |00380535|, which starts one on stage 6 with 9 lives and 5 minutes remaining.
Prince of Persia Game Boy Password Generator
This neat little prog may come in handy for those of you who have and play Prince of Persia on the old GameBoy Color. It generates a password for any starting level and any time remaining you choose. Check it out at : http://www.bripro.com/games/princegbpass.php. This version of POP is actually pretty close to the PC DOS version with its "white pyjama graphics".
Code generator
Code generator for GameBoy version of Prince of Persia 1.
http://www.tammo80.nl/prince/savegboy.html
Covers
Front Cover: click
Back Cover: click
Cart: click
Strategy
Download
Pack POP1 GB+GBC: popgbspack.7z (131 KB)
Maps
All maps have been made by Will Mallia and released on popuw.com.
Download: princeofpersiagameboymaps.zip (532 KB).
Play PoP 1 Gameboy Online
PoP 1 Gameboy Online on Nesbox (Flash) Emulator: http://www.retrogames.cz/play_102-GameBoy.php.
PoP 1 Gameboy Online on JavaBoy (Java) Emulator: http://www.retrogames.cz/play_102-GameBoy.php?emulator=java
PoP 1 Gameboy Online on NeptunJS (JavaScript) Emulator: http://www.retrogames.cz/play_102-GameBoy.php?emulator=js
FAQ
QUESTION: The cover of the cartridge itself looks like the box cover of the Gameboy color edition of the game. Now I was wondering if this game would work on Gameboy classic (the white one). If it was only meant for the Gameboy color, wouldn't it have a label on it which states "only for Gameboy color"?
Here's a picture of the cartridge: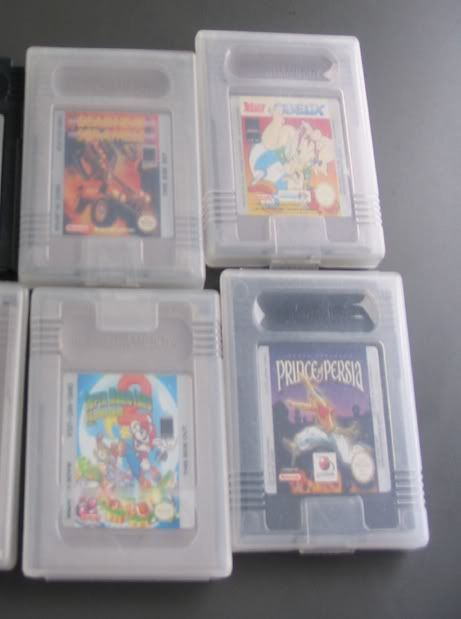 ANSWER by princeofpersia: Correct. I have this cartridge (black color). Unlike some exclusive Gameboy Color Only games, this version of Prince of Persia is also compatible with the old (big, white & bulky) Gameboy system and will play in black and white graphics. This is clearly stated on the back of the game box, with a B&W screenshot in action. Of course, to have color, you need to play it on the Gameboy Color (or GBA, GBA SP).
http://www.mobygames.com/game/prince-of-persia/cover-art/gameCoverId,14284/
Also, I think there was an older version of the game by Virgin Games/Mindscape, which was only in black and white graphics and the cartridge has gray plastic color.